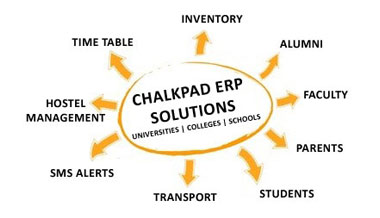 About Us
ChalkPad has been positioned as 'Education Technology Specialist' company and look forward to providing strategic consulting and technology management services to schools, colleges and universities across the world.
ChalkPad would be offering a strategic portfolio of student information solutions designed for the evolving needs of schools, higher education institutions and universities. We are working very closely with educators , administrators, standards bodies, education associations and industry thought leaders to develop and deliver the most responsive and comprehensive student information solutions available anywhere.
Our Vision

ChalkPad Technology will strengthen the academic and financial performance of various schools, colleges and universities through improved constituent services, increased accountability and better educational experiences by bringing together people, processes, and technology.
At ChalkPad, we understand
That the education climate is constantly evolving across the world and student Information solutions must be flexible and adaptable
That accountability pressures continue to mount and that real solutions are needed to meet your requirements
That all institutions are not the same ... solutions need to match the individual size and unique needs.
That technology is only one piece of the puzzle ... successful solutions need to be combined with educational and administrative expertise, business acumen, and professional services tailored to needs of each and every institution.
Management Team
ChalkPad is a high energy technology start-up which is set to revolutionize the business of education. Boasting a young and dynamic leadership team of technocrats with a combined experience of more than three decades in the Technology and Education industry, we promise to take learning to the next level, and beyond.
Kabir Khanna | Chief Knowledge Officer
A Computer Science graduate with over 13+ years of rich transnational experience in globally benchmarked organizations and has developed & delivered software products from concept to release that resulted in multimillion dollar sales.
Aasheesh Bhatnagar | Chief Campus Evangelist
Aasheesh has done B.Sc and PG Diploma in Computers & Statistics. He brings with him more than 18 years experience in different sectors of sales and marketing. He has worked with companies like PC Point (P) Ltd., Franchisee Sprint RPG India Ltd., MF-NIIT Ltd., IDS Infotech Ltd., INSCOL Academy Ltd., and Educational Initiatives (P) Ltd.